OXFORD STREET, REGENTS STREET & NEW BOND STREET
Personal Styling London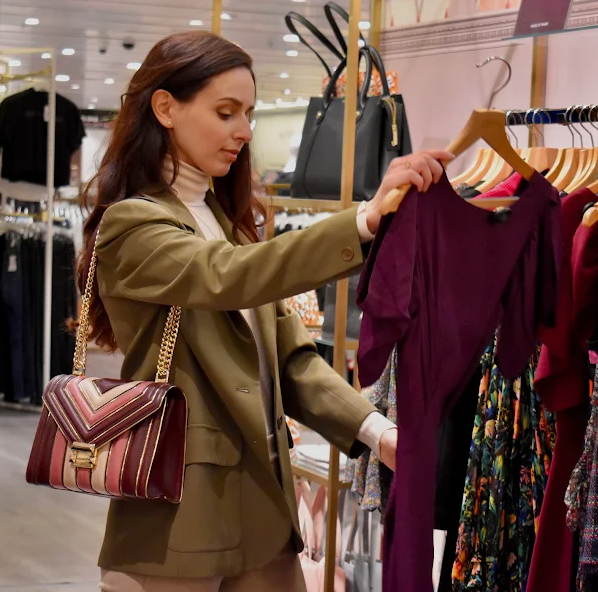 Finally, achieve your dream wardrobe
Learn personalised style techniques and shop with your own personal stylist and assistant.
We'll teach you specific, personalised style secrets
Discover your best colours and combinations
Understand how to dress to flatter your body shape
Solve any shopping, styling and wardrobe concerns
Fine-tune and express your true sense of style
Shop in London's unsurpassable fashion hub
Enjoy a variety of shops including world-famous department stores, up and coming designer boutiques, custom made clothing and flagship stores of your favourite brands.
What's included?
Body shape, colour and style consultation in our private styling room
Personal stylist + assistant to maximise time during your session
Personalised follow-up guide filled with advice discussed during your session
Private online shop with additional pieces to complement your purchases
How does it work?
Book your service
Upon completion of payment a friendly member of our styling team will contact you to book your date and time.
Session Preparation
Once your appointment is set, we'll share our session preparation guidelines with you. You can also pre-order your drinks and refreshments should you wish!
Your Session
Enjoy shopping with your stylist + assistant and learn specific style techniques
POST SESSION
Receive your digital follow-up guide and private online shop within 72 hours of your service
Testimonials
I booked an in-person personal shopping session. They were very professional but friendly and engaging at the same time. I had a great time throughout. They helped me understand better what colours work best for me and what shapes would suit my body type. They explained and listened well throughout the process. I bought pieces that I would otherwise not gravitate to, and the clothes did give me a great boost (and got instant compliments from my friends). I now have better tools and knowledge to make the most of my clothes and be more efficient when shopping in the future. Highly, highly recommended! And probably one of the best services I ever bought for myself as a treat.
My second time using Curate Your Style services and many more to come! I highly recommend Hannah and Fifi - both are great stylists with unique outlook and vision. Having a session with them is like a pick-me-up for when I am bored of my wardrobe or stressed about an event. Both my sessions were fun, informative and very productive! Thank you and see you again soon!
Curate Your Style is amazing, they did a great job, and gave me advice on what suits me, for the same budget that I usually spend.Their advice was on point, they know what suits a person from many factors like skin tone and body shape, and give advice on clothing in general like, colours, type of textile, shoes, etc.
Select Your Service
3 HOURS

The perfect duration to shop for an outfit for a specific occasion or if you're interested in an introduction to styling.

4 HOURS

Great if you are looking to update your wardrobe with key pieces for a specific area of your lifestyle, such as a workwear update or a holiday wardrobe.

5 HOURS

This duration is great if you need a new capsule wardrobe or clothes for multiple occasions. This session includes a short coffee break halfway through your session.
London Personal Stylist Shopping
Regular price

Sale price

£390.00
At your service
Mayfair Styling Room
FAQs
How much money do you recommend I spend on clothes?

This is entirely a personal decision, rest assured that our stylists can work with your budget.
Does the fee include money for clothes?

The price is for the styling service and does not include any money for clothes.
Will my photos be shared on social media?

Not at all, we value the privacy of our clients. All of our services are 100% confidential. For more information see our privacy policy here.
Can I bring someone along to my session?

Our sessions are confidential and run on one stylist, one assistant to one client basis.

If you are under the age of 16 we ask you to attend with a parent or guardian.
How will I receive my online shop and follow up guide?

You'll receive an email within 72 hours of your session with your follow up guide and online shop.
Is this only for women?

Not at all! This is for everyone.