We're here to Solve Your Style Struggles
Our Principles
Proven - great style isn't luck, it's based on a fail-proof formula. Our technique aligns all aspects of you from your shape and colouring to your style and lifestyle.
Personal- we personalise our services to suit your needs. Leaving our style preferences at the door, we focus on creating the best version of you.
Practical - beyond looking your best, we ensure your clothes are appropriate for your needs and make for fast, versatile outfit building.
Our Promise
Collaborative- we combine our expertise with your style preferences to create a style that looks and feels like you at your best. We never, ever, force you into decisions you're not comfortable with.
Confidential- our sessions are discreet and strictly confidential. With respect for your privacy, we do not share information or photographs of your session.
Confidence - the ability to transform your confidence through the power of clothes is at the heart of our services. If you don't feel better about yourself, we haven't done our job.
Meet the Stylists & Co-Founders
FOUNDED BY SISTERS HANNAH AND SOPHIA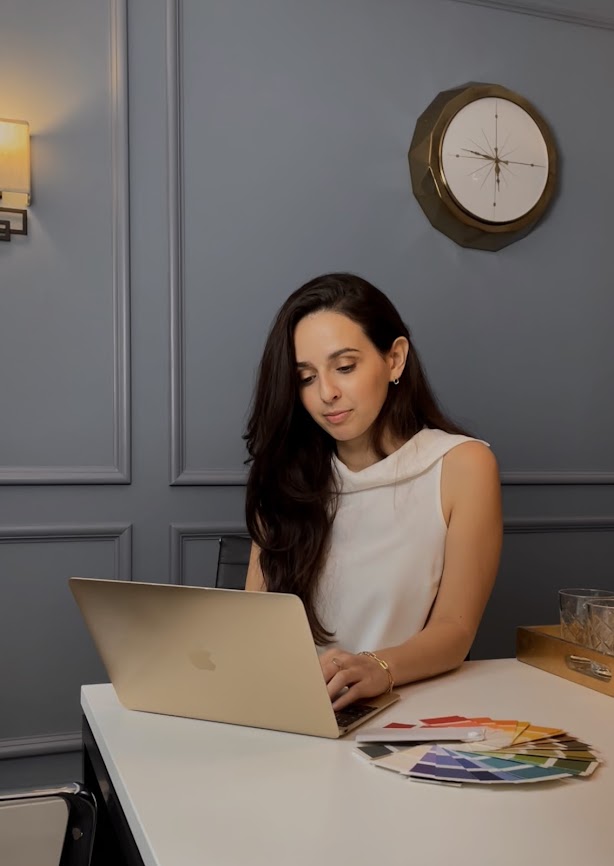 HEAD PERSONAL STYLIST & CO-FOUNDER
Welcome! I'm Hannah, I'm delighted to have you here
Over the past decade, I've been fortunate enough to experience many sides of the clothing industry.
From transforming clients as a Personal Stylist, designing clothes for my sustainable fashion line to working with known brands, I have seen every step of the journey from design, to selling, to purchase.
In other words...
I know how clothes are made and what they will do for you. From fabric, cut, sizing, and colour.
I know how clothes are sold, often through misleading "style advice" that purely benefits the brands' profits, not the customers. 
I know exactly how to use this knowledge to empower you to radically transform the way you shop, dress, look and feel. 
The reason why you don't feel like you look or feel good is simple - we have never been taught how to dress for our body shape, colouring or personality. I can guarantee that looking and feeling good in your clothes is 100% possible for you regardless of age, shape, size, gender, or budget. 
Our devised Curate Your Style formula has been crafted and perfected over my 10 years of experience to create immediate results and lasting change for everyone. I'm delighted to share these steps with you and I'm excited for you to experience new levels of self-confidence.
SENIOR PERSONAL STYLIST & CO-FOUNDER
I'm Sophia - it's a pleasure to welcome you
My personal styling journey has been of two extremes - yours doesn't have to be.
From an unhealthy obsession with my appearance to choosing not to care at all, for a long time I wasn't at peace with myself or my wardrobe. Both approaches left me feeling underconfident, average and emotionally depleted.
When I overly cared about how I looked I felt…
- That looking good is a huge effort that required hours of my time
- Confused, disheartened and frustrated when I didn't look or feel right in my clothes
- There must be something wrong with me. All the advice I followed backfired and I was stuck with a wardrobe that didn't make any sense and not enough money to start my wardrobe again from scratch.
From my own personal transformation and transforming clients myself,  I know that you too can:
- Be excited to express your style personality and aesthetic
- Feel confident in who you areBe able to walk into any shop and know immediately what will work and what won't
- Put outfits together in minutes Look and feel great effortlessly
It's no wonder that out of the frustration of getting nowhere, I swung to the other extreme of choosing not to care about how I looked. I expected to feel liberated - without the pressure of looking good, I could bask in having extra time and money and find a new sense of confidence.
But to my surprise I….
- Dressed exclusively in dark colours and baggy clothes
- Still felt average and underconfident
- Did not feel like me at my best. I didn't feel like I was embracing myself or shining my light brightly.
- In a way, I didn't feel any better than when I was ruled by my appearance.
It wasn't until I applied the Curate Your Style formula myself that I understood that there was a middle ground.  A sweet spot where you can not only look and feel great, but do so effortlessly in no time. 
I believe that a great style transformation is one where you feel liberated by your clothes, not burdened. We wear clothes every single day, they are undeniably a part of our lives and they are either working for you or against you. 
I am thrilled to assist you on your style transformation, nothing beats the feeling of stepping outside your front door knowing you look and feel your best. That is something we all deserve to feel.
Have a question? We'll respond within 48 hours.